Solar Powered Lighting systems can be a great fit for your parking lot lighting needs. Parking lots often have open access to the sun.
If your lot is already paved or located at a distance from grid connections, solar lighting is especially cost-effective. Instead of closing the area, trenching and repaving, simply site and implant the systems. Solar lighting can also be an effective supplement to existing grid-connected lighting where the original lighting layout created unanticipated dark spots or where light trespass is creating an issue with neighboring property.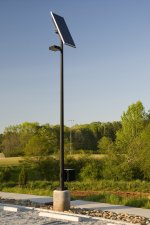 The Overhead Light is suitable for a large variety of applications, including: pathways, sidewalks, waiting areas, low-security parking lots, and campuses. Fitting can be reconfigured to complement a variety of applications, pole types and sizes.
Would you like more information about our this community solution ?

Get an FREE QUOTE, or contact us today on +55 (71) 2626 3005 and speak to our friendly team for expert, no obligation-free advice!