Category: Blog
More benefits using solar energy

EcoPlanet Energy explains why investing in solar energy makes sense.
Brazil is a prime location for the use of photovoltaic energy due to the abundance of sunshine in that region, with high electricity tariffs and one of the largest silicon reserves in the world, making it extremely attractive to consumers, and also to the country as a whole with the generation of employment, return on taxes paid and enormous benefits for the electric utility grid.
The use of the photovoltaic systems in residences is already a reality in Brazil and has been growing continuously. With the government's Regulation 482 from ANEEL , the government's National Electric Energy Agency body, it is possible to install a photovoltaic system with the direct assistance from EcoPlanet Energy and connect it to the electricity grid through the government's energy compensation system.
This way, you can virtually reduce your electric bill to zero with the use of solar energy, and only pay the minimum charge for having the utility grid network available.
It is a smart and practical way to generate your own electricity at home and reduce your high costs with conventional utility power.
Main components:
Photovoltaic Modules, which convert sunlight into electrical energy.
The inverter, which converts direct current electricity (generated by modules) into alternating current for use in buildings or injected into the grid.
Watch the following TV report and interview from yet another satisfied customer of EcoPlanet, and further discussion about the numerous benefits offered by implanting solar photovoltaic (micro) systems.
(GRID-TIE) The system connected to the utility grid, is recommended for residential and business installations. It has a simplified installation and low maintenance, as it does not require batteries and uses the government agency's (ANEEL) Regulation 482 to generate immediate electric bill savings and guarantees electricity supply due to the connection to the electric utility grid.
Remote self-consumption is one of the modalities provided by the government agency's (ANEEL) Regulation 687 for systems connected to the grid and determines that when the generation is greater than consumption, the customer can reduce the electricity consumption in another locality that is within the same concession area with the energy credits.
Shared generation, another modality of the government agency's (ANEEL) Regulation 687 , provides that from a collective or joint investment perspective, such as a consortium, customers can install a distributed micro or mini-generation so that each consumer unit uses the energy to reduce their electricity bill as if they were a single consumer.
A stand-alone system is recommended for projects under special conditions, where there is no electricity transmission in the region – such as rural areas and remote projects, where batteries are needed.
A Solar UPS system is recommended for residential and business installations where you want security of an uninterrupted power supply for critical operations, as well as economy of light bill in sunny and normal operational periods.
Other benefits: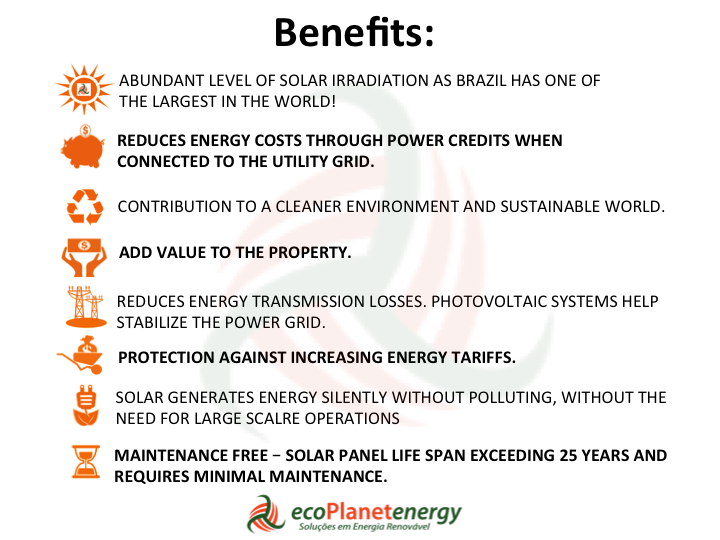 Consult with a staff member at EcoPlanet Energy to find out how solar energy can reduce your energy costs: Tel: (71) 2626.3005 or Email: sac@ecoplanetenergy.com.
Other Related Articles:
MGM Resorts complete's U.S. largest rooftoop Solar project

MGM Resorts Beats Toys 'R' Us With Biggest Rooftop Solar System
MGM Resorts International surpassed Toys "R" Us Inc. with the largest U.S. rooftop solar installation, an 8.3-megawatt system completed this week.
With an expansion that included more than 26,000 panels covering 28 acres atop the Mandalay Bay Convention Center, MGM broke the record that the toy seller had heldsince 2011 with a 6.2 megawatt system at a distribution center in Flanders, New Jersey, according to GTM Research. That's enough energy to power 1,000 average-sized homes for a year. 
The project was a partnership between MGM and New Jersey-based NRG Energy, which financed, built and now owns and operates the array. Through a power purchase agreement (PPA), Mandalay Bay will buy the energy generated by the solar array. For MGM, the business and environmental benefits are substantial because the project will provide approximately 25 percent of Mandalay Bay's electricity needs.
With its ongoing water struggles, the vast amounts of energy and resources going toward recreating cities such as Paris and Venice, and its bawdy reputation as a party town, sustainability is the last topic that comes to mind when thinking about Las Vegas. But Sin City is drenched in sun, and the ample roof space throughout the city offers the local hospitality sector opportunities to reduce costs via solar power and demonstrate it can be a more responsible industry. To that end, MGM Resorts International announced last week it has completed the installation of what it's calling the world's largest rooftop solar array on a convention center.
Covering 20 acres on the Mandalay Bay Resort and Casino's 1.7 million square feet of convention space, over 21,000 solar panels will provide 6.4 megawatts of clean energy to the complex. MGM says the energy generated from the rooftop array is enough to power 1,000 American homes while displacing about 6,300 metric tons of carbon dioxide. The array will also help lower demand on southern Nevada's electricity grid during the hot summer days.
Sources: MGM Resorts International, NRG Energy, Bloomberg.
Another home reduces their energy costs by using solar energy

Generate your own electricity and save money!
With the increases in energy tariffs and bills getting more expensive every month, a resident of the city of Salvador, Bahia, found a solution in the sun to reduce energy costs of his house.
The home owner took advantage of the benefits that solar photovoltaic technology offers. After a brief study and a technical evaluation with the equipment and service provider, EcoPlanet Energy, the owner decided to use the available space on his roof to install solar modules and reduce the cost of his electricity consumption and increase the value of his property.
The solar generator system was installed by EcoPlanet Energy's qualified team to attend the eletricity demand of the house. The system in question is composed of 28 solar panels, each with a capacity of producing of 275 Wp and two inverters capable of producing 10.000W per hour in total, and that produces a potential power capacity of more than 1,000 kWh per month, thus providing a savings of approximately 99% of the home's average consumption every month.
As a result of Brazil's recent high energy cost hikes, the search for alternative solar photovoltaic power has greatly increased, making the renewable energy market increasingly popular, thus bringing enormous benefits for the customer in the form of energy cost reduction due to the use of energy provided by sun, as well as the benefits derived by giving back to the environment, by reduction of carbon emissions in using fossil fuels.
Do as our customer, and start generating your own energy and avoid the high energy bill costs hikes. Get a quote and arrange your project today.
ECOPLANET promotes renewable energy in university sustainability project

Eco-architecture and Eco-Containers
The concept of housing has been changed and increasingly more new ideas come to the fore and become the trend in this market segment. An example is "eco-architecture". It is increasingly present in buildings, creating cost-effective solutions and new alternatives to live or work in, always focusing on well-being and sustainability of our planet.
Another factor contributing to the creation of new options for housing and work is the overcrowding of cities, coupled with economic factors that makes new concepts to build environments for a greater number of people at a more affordable price.
And this was the thinking that created the idea of showing this concept in practice with offices and ordinary houses, by demonstrating it in the "eco-container".
EcoPlanet Energy embraced the opportunity to help the University Jorge Amado (Unijorge) in Salvador, Bahia, with its "eco-container" project, aiming to demonstrate sustainability through the use of clean and renewable energy.
EcoPlanet Energy is a popular reference in the renewable energy solutions market in the northeast of the country, and increasingly achieves its mission to popularize the use of renewable energy, when it comes to micro and mini generation of clean and renewable energy in the country. It offers eco-efficient products and high quality services in renewable energy solutions, bringing great savings to its customers by providing efficiency in energy consumption, that also results in positive contributions to the environment.
The sophisticated solutions demonstrated in this eco-container project, follow the lifestyle of today's modern society: sustainable, solar photovoltaic modules,  rainwater collection for reusable water storage and green (garden) roofs, leaving behind the traditional format a house.
The photovoltaic system installed on this eco-container stores its generated energy in a battery which is sufficient to feed all electrical / electronic equipment housed in the container.
"Another important factor to remember is that the containers that would be otherwise thrown away, can now be reused for the formation of these new home or office concepts, making this prospect an economical, practical and environmentally friendly process," points out, Ian Ross, the director of EcoPlanet Energy.
"We are proud to offer the public a viable alternative option to take control of their energy costs. Our goal is to continue to innovate with the development of renewable energy solutions, always prioritizing the needs of our customers and continue to strive for their complete satisfaction, allowing them to have a better quality of life, and at the same time contributing to the preservation of a more sustainable planet." concludes the executive.
And you? Would you live in an "eco-container" house or office?
To know more about this project please contact us at: sac@ecoplanetenergy.com ou Tel: (71) 2626.3005.
BRAZIL BUILDS THE LARGEST SOLAR FARM IN LATIN AMERICA

Bahia to receive the largest solar farm in Latin America
Located 800 kilometers from EcoPlanet Energy's headquarters in the northeast capital of Bahia – Salvador (BA), is Mariquita, the Tabocas district of Brejo Velho, will receive the largest solar power plant ever built in Latin America, with capacity of 254 MW and estimated annual production of 500 GWh. The project was named Ituverava project and is funded by the Italian Enel Green Power company, it is expected to be in operation in 2017.
This will be the largest solar power plant in Latin America, and will help meet the constant demand for electricity in the country – which according to estimates will increase at an average rate of 4% per year by 2020.
Solar energy in Brazil: The increase in energy consumption that Brazil is facing in recent years, is not being accompanied by an increase in power generation from traditional sources present in the country, including hydroelectric, and therefore requires a diversification within their energy grid (matrix). The solution to this problem is represented by photovoltaic plants, which among all renewable energy sources are those that cause the least environmental impact, in addition to the other advantages and benefits that distributed energy generation presents. The auctions held in Brazil by ANEEL (Brazil's Central Energy Agency) are having a major success.
Source: ABIDES (Brazilian Association for Integration and Sustainable Development)